In their influential book "Building Great Customer Experiences" (2002) authors Colin Shaw and John Ivens define customer experience as simply "… a blend of a company's physical performance and the emotions evoked, intuitively measured against customer expectations across all moments of contact."
While many CX consultants will rush to sell you a mega costly all-encompassing package that seeks to re-arrange the attitudes of all your customer-facing staff, there are many ways of which your business can improve customer experience in an affordable, effective manner.
Shaw and Ivens have Seven Philosophies for Building Great Customer Experiences™.  Philosophies Two and Three are as follows;
"Philosophy Two: Great customer experiences are created by consistently exceeding customers' physical and emotional expectations"
"Philosophy Three: Great customer experiences are differentiated by focusing on stimulating planned emotions"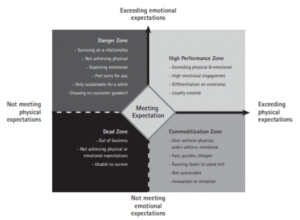 Above; Customer Expectation Zones, Shaw and Ivens (2002)
---
Case Study
As an example of exceeding expectations, we will look at the restaurant industry. Imagine taking your partner to the best restaurant in your town. When you book, you know there will be valet parking, and a waitperson with a white napkin will escort you to the table. They will unfurl the napkin and place it on your lap. The wine list is extensive and expensive, the food fantastic, and service impeccable. The bill is as you expected.
So, you leave feeling warm and fuzzy and go home. It was a great night – everything was as you expected.
The following night, you decide to eat out at the local Italian. You phone and make a booking for 7.00pm. When you arrive, right out front is a reserved car bay with your name on it. You park and enter.
The young waitperson welcomes you by name and takes you to your table which has a personalised reserved plate on it, instead of the expected metal generic reserved sign. The food is always good here and the limited wine list is as expected, and the bill is 25% of what you paid last night.
Which of these two experiences 'exceeded' your expectation, both physically and emotionally?
Which experience is most likely to be talked about over the water cooler? And which is going to inspire you to jump onto social media and give them a 5 star rating?
And the cost to the restauranteur? Two cards with your name on them and a minute of staff time?
Exceeding customer expectations is easier than you may think, especially if their expectations are low. So make sure that when someone phones your business, you don't let them feel as though you do not value their time. Dig a little deeper, and think creatively. If they are going to wait on hold, give them a choice! Let them select their own music, play a game with you, or listen to todays' news and sports. Exceed their expectations – for less than $400 a month with Captivate Connect.